News, Articles and Publications
 PUBLICATIONS:
Guidebook: Mastering the Art of Legal Coaching by Jo-Anne Stark. Available now online and through major retailers, click the    thumbnail below for direct access: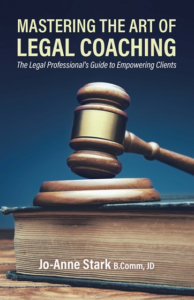 How to Manage Disputes Effectively": NAVIGATING YOUR LEGAL JOURNEY SERIES
For those managing a legal dispute, whether on your own or with a legal professional, click here to be directed to Mastermind to "join" and you can learn more about an on-demand series: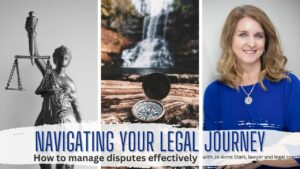 _____________________________________________________
  ARTICLES PUBLISHED:
Canadian Lawyer June 2020 – Legal Coaching: Disrupting the Status Quo
The Lawyers Daily March 2021 – Advice for the Career Weary
BarTalk CBABC Feb 2021 – Legal Coaching as an Alternative
The Lawyers Daily April 2021 – Access to Justice: Who Needs It & How You Can Help
National Self-Represented Litigants Project March 2021 – Legal Coaching
The Lawyer's Daily May 2021 – Coaching Versus Lawyering
The Lawyer's Daily June 2021 – I Don't Like Mondays
The Lawyer's Daily Sept 2021 – What Makes Lawyers Happy
The Lawyer's Daily Oct 2021 – Going Virtual, Paperless: Is It Really That Scary?
The Lawyer's Daily Dec 2021 – Developing Client-Centric Practice
The Lawyer's Daily Jan 2022 – I Can't Afford to Hire Me!
The Lawyer's Daily March 2022 – Lawyers Who Offer Limited Legal Services
The Lawyers Daily July 2022 – Above All, Don't Pester Your Lawyer
The Lawyers Daily Sept 2022 – Innovation Sandbox: Threat or Opportunity?
The Lawyers Daily Nov 2022 – Burnout, Compassion Fatigue and Other Realities of Practicing Law
Law360 Canada January 2023 – Tragic Consequences of NDAs
Canadian Lawyer Magazine Feb 2023 – The Use of Non-Disclosure Agreements to Silence
Law360 Canada Feb 2023 – AI Won't Replace You…But Somebody Using It Might
Law360 Canada April 2023 – Garnering Support for Victims of Abuse and Harassment
Law360 Canada May 2023 – Who Among Us is Living in an Ivory Tower?
___________________________________________________________________ 
PODCASTS AND RADIO SPOTS:
Real Talk March 20, 2021 – Legal Coaching
CBC Early Edition with Stephen Quinn – We Hear from a Lawyer Who Wants to Prohibit Misuse of NDAs
CBC "As It Happens" Feb 2023 – Interview on NDAs
Can't Buy My Silence Mar 2023 – Screening of "She Said" and Panel Discussion Led by Jo-Anne
Special Committee of the House of Commons Year of the Co-Operative (testified before the Committee, 2012)
Press Conference, Senate (Ottawa, Canada) May 2023 – Introduction of new Bill by Senator McPhedran and Jo-Anne Stark
__________________________________________________________________________
ARTICLES AND INTERVIEWS ABOUT JO-ANNE'S WORK:
National Magazine March 2022- Self-Representation Done Right
National Magazine Feb 2022 – Removing Regulatory Barriers
Certified Coaches Federation Success Story – Featuring Legal Coach Jo-Anne Stark
CBA National Magazine Jan 2023 – What's Up for Debate at the AGM
CBC Feb 2023 – Lawyers Across Canada Approve Groundbreaking Resolution
The Star Vancouver Feb 2023 – CBA Will Advocate To End Use of NDAs
Toronto Star Feb 2023 – Non-Disclosure Agreements Can Be Abused
____________________________________________________________________________
NOMINATIONS:
Canadian Lawyer Magazine Top 25 Most Influential Lawyers in Canada (2022)
American Legal Technology Awards (2022)
____________________________________________________________________________
SUBMISSIONS TO GOVERNMENT/LAW SOCIETY/COURTS:
Canadian Bar Association BC Branch – over 30 submissions to BC Government, Courts and Law Society on advocacy initiatives, in co-operation with volunteer lawyer members (December 2019 through June 2022)
____________________________________________________________________________
RESOLUTIONS PASSED:
Regulatory Innovations to Improve Accessibility, Affordability and Quality  of Civil Legal Services In Canada (Feb 2022) – Canadian Bar Association
Principles to Prevent Misuse of NDAs in Cases of Abuse and Harassment (Feb 2023) – Canadian Bar Association